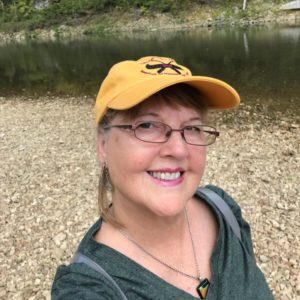 My journey to creating fused glass followed a winding path, beginning with photography. As I captured images with my camera, I felt the urge to recreate them in other art forms. My first attempt was watercolor and that gave me the opportunity to explore the colors and shapes in a more free form way.
However, I happened upon an opportunity to learn the art of stained glass, and having always loved and collected glass items, I quickly became absorbed in creating my photos in a stained glass interpretation and, alas, I left watercolor painting behind.
As I progressed in glass, I became familiar with glass fusing and took instruction to learn how to create it. There I found the perfect combination of freedom and structure that I had been seeking. In fused glass I can create any design my mind dreams up, and I can be in the moment and open to the process. Ahhh!
Experimenting in this art form allows me to use my ideas from photography, the elements of color I gained from watercolor painting, and the practice of glass cutting I learned in stained glass. I learn something new all the time in my work in fused glass, and that is rewarding, challenging and satisfying!